Best Simulation Games for Android
Simulation games are one of the most addictive games for Android. These are the games which allow you to do all the things you couldn't (or wouldn't dare) do in real life. These are the games which will keep you entertained for hours.
The number of simulation games on Android Market is so great that it's hard to find the game we're looking for. As you probably know by now I am a full time Android enthusiast who tests tens of games every day. And in this article I will show you 6 best simulation games for Android.
Ready? Fantastic!
The Sims Free Play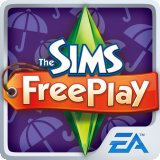 Did you use to play Sims on your computer a few years ago? Whether you did or you didn't, you should
definitely try playing it on your Android device. I was once addicted to this game. Playing it on a mobile phone is as much fun (if not more) as playing it on the computer.
The Sims is probably the best known simulation game of all time. What's best about it is that we simulate here LIFE. We can finally do all the things we wouldn't do in our real life. The Sims Free Play is the free and mobile version
of this classic.
In the game, you can take care of 20 Sims, let them marry, divorce, have babies, be successful or be failures. The simulation possibilities are nearly endless!
Main features:
FREE
Heavyweight so it's better to download it via WiFi
Tons of simulation possibilities (careers, pets, gardens, cooking and so on)
GAME DOWNLOAD:
Get The Sims Free Play (Kindle Fire Tablet) for $0.00 from Amazon!